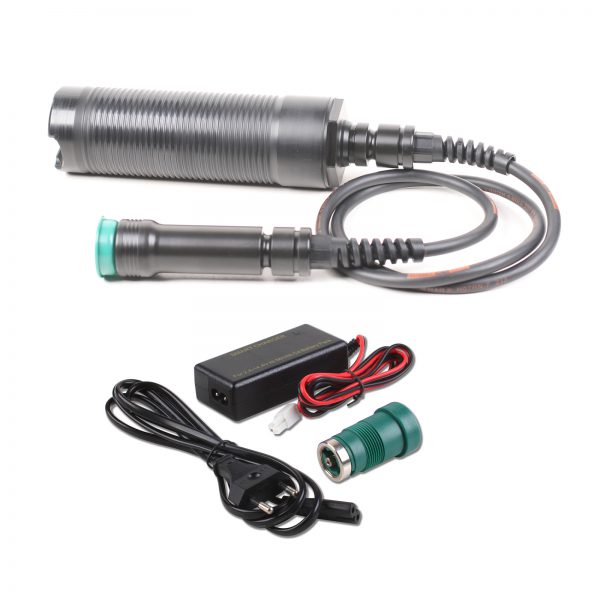 GF Flexi II, Umbilical & Charging Set
The Green Force Flexi II battery pack is the most popular battery pack in the Flexi range and offers a wide range of applications. The Green Force Flexi battery packs are made of heat-resistant polyacetal (delrin) and have an overpressure valve
Order online
Product description
The Green Force Flexi II battery pack is the most popular battery pack in the Flexi range and offers a wide range of applications. This battery pack has a capacity of 4.5Ah and can be combined with all Green Force Hybrid and Squid lamp heads. This battery pack can be charged with a Green Force charger, can be used as a hand lamp or as a umbilical lamp as it is easy to convert.
The Green Force Flexi battery packs are made of heat-resistant polyacetal (delrin) and have an overpressure valve. The durable NBR O-rings ensure water tightness. The Flexi is equipped with the TOS® system (Triple O-ring Sealing).
Green Force Flexi II has tank connections for the Flexi battery packs in its range. This allows the battery to be easily attached to the tank. As an umbilical light, this battery pack gives you enormous freedom of movement because only the light head has to be held. Green Force also has aluminum handles available if you would use this battery pack as a handheld light.
The Green Force Flexi II comes with an umbilical (1m) and a charging set.
Pros & Cons
Most popular battery pack in the Flexi range
Can be combined with all Green Force Hybrid and Squid Light Heads
Can be used as a handheld or as an umbilical light
Easy to convert
Heat-resistant
Overpressure valve
Equipped with the TOS® system (Triple O-ring Sealing)
You only have to hold the light head which gives you an enormous freedom of movement
Included in this package
Batterypack (4.5Ah NiMh 12V)
Charger (0.5A)
Charging plug
Umbilical (1m)
Technical information
| | |
| --- | --- |
| Battery | 4.5Ah NiMh 12V |
| Voltage | 12 Volt |
| Diameter | 60mm |
| Length | 230mm |
| Charging Time | 15 - 540 Minutes |
Suitable light heads for GF Flexi II, Umbilical & Charging Set